Hello from Kentucky! Yes, I'm in Kentucky right now for the Route 127 sale! I just LOVE the southern accents out here :o) BUT, I don't think they like mine :o( I have been repeating myself for 2 days now....seriously! I think us Chicagoans talk too fast...lol. I have found many treasures today including 4 lava lamps for my peace themed classroom....S..C..O..R..E! I got a Candy Land board game...I use just the game board & figurines but use sight word cards & addition/subtraction games with it. I think I have 7 boards already. I found the game "upwords" & plan on using the letters for "word work". I also found two mini chairs which I posted on my FB page that I plan on redoing with some Dr. Seuss magic. I might even jazz one up with some peace signs & tie dye. I promise I will post pictures when I get done...which might not be until Christmas break since I will be spending every waking moment in my classroom starting on Monday! Now onto my latest peace creation....
Don't mind the red outline...I work on a pc...for now...& when I do "snippets" it just does it automatically. Check out my word wall on TPT HERE.


IF THERE IS A PARTICULAR WORD WALL THEME THAT YOU ARE INTERESTED IN JUST LEAVE ME A COMMENT & I WILL WORK ON IT! I AM STARTING TO TAKE REQUESTS FOR THINGS SO PLEASE LEAVE ME A COMMENT OR EMAIL ME (ON SIDEBAR).
Now for some info for all you first grade bloggers out there. There is an opportunity that I surely am not passing up & I wanted to let you know about it as well!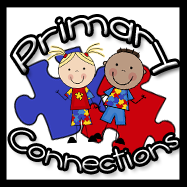 Click on Primary Connections to get in on all the fun.
Here is some info directly from their site.
A first grade collaboration of bloggers?
Questions:
Would you be interested in joining this type of blog? (If this is an idea that others would jump on board and participate in, I will ask for more specific information at a later time)

I think a blog can have 100 authors so I imagine it would be a first come first serve option so that it is fair to all?

I will try to create some kind of poll on Sunday so we can vote from the suggested names list.
Submit Blog Name Deadline:
Sunday
Please blog about this so we can get more 1st grade bloggers on board and involved
Suggested Names so far: Thank you for participating!!
"First Grade Connections" **

"Frills and Thrills in First" or "Frills and Thrills in First Grade"

"Fairly First" (not sure what that name would imply, but I like alliteration)

"Floss Flowers in First" or "Little Floss Flowers of First" (it's a flower...and it starts with an "f", lol)

"Leaping into First" *

"Flavors of First" or "Flavors of First Grade"

"Fundamentally First"

"Burst Into First" *

"Detecting a great year in First Grade" *

"Teaming up in First"

"The First Grade Team"

"Collaborators in First"

"Collaborators of First"

"Team First" *

"First Grade Think Tank"

"First Grade Talking Points"

"First Grade Headquarters"

Note-able First Grades

First Foundations



* = Vote