Jen at Finally in First is having a favorite fonts linky party. What a fabulous idea for a linky party Jenn! Click on her button below to join in on the fun!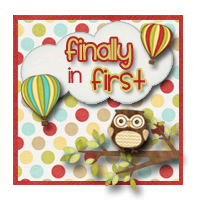 If there was a support group for font addicts I would be the leader...lol & I'm so NOT KIDDING! I have spent hours upon hours looking for free fonts! Some of my favorite FREE fonts come from the following sites:
Font sites that have free fonts and purchased fonts that are my favorites.
My ALL TIME FAVORITE has to be the colorful sassy fonts from Lettering Delights. They do have sales & I take advantage... that is for sure!
Here is a list of my favorite fonts. Just google the name of the font & it will lead you to it. Enjoy!
Click here if you want to print the list out.